Posted on February 10, 2015, and tagged as
The number of Jews in Europe has declined to a fraction of its pre-war population. With anti-Semitism there on the rise, a new exodus may be close.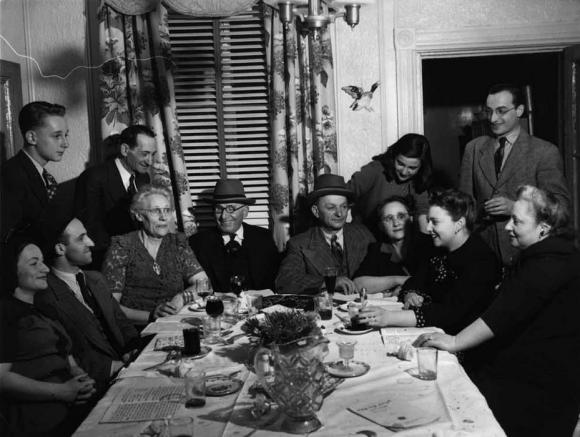 Refugees at a Seder in Toronto, ca. 1945
Pew reports that the global Jewish population hasn't yet recovered in the decades since World War II. In Europe the picture looks especially bad:
There are still more than a million Jews living in Europe, according to 2010 Pew Research Center estimates. But that number has dropped significantly over the last several decades – most dramatically in Eastern Europe and the countries that make up the former Soviet Union, according to historical research by Sergio DellaPergola of the Hebrew University of Jerusalem.

... In the decades since 1945, the Jewish population in Europe has continued to decline. In 1960, it was about 3.2 million; by 1991, it fell to 2 million, according to DellaPergola's estimates. Now, there are about 1.4 million Jews in Europe – just 10% of the world's Jewish population, and 0.2% of Europe's total population.
This is sad news. Let's hope the trend reverses. A Europe without Jews, who have lived there for thousands of years, is not its true self.