Posted on December 3, 2016, and tagged as
Looking to upgrade your Mickey Mouse pancakes? You don't need an art or cooking degree. You do need a computer, SD card and this batter printer. Imagination sold separately.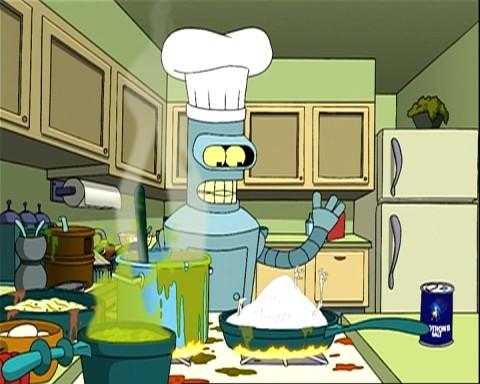 Futurama's Bender whips up a meal
Move over bacon, here comes the next big thing in cooking, printing your breakfast (via Amazon):
The PancakeBot is the world's first pancake printer capable of automatically dispensing batter directly onto a griddle in the shape of the user's choosing ...

Step 1
Draw your pancake with the PancakePainter software or choose a design from pancakebot.com website.

Step 2
Load SD card with design files and insert into PancakeBot.

Step 3
Make your pancake batter, load the bottle, and watch the PancakeBot print your design!
OK, so by the time you've designed breakfast, printed one pancake at a time, reloaded the reservoir for each pancake and made enough pancakes for the family, it's time for lunch. But come on, you can print your breakfast.