Posted on May 12, 2015, and tagged as
1980s-era digital technology, smooth plastic strap, and top-notch performance under extremist conditions. The only thing this watch doesn't do is get you to Guantanamo Bay for a long vacation. Oh yeah, it does that.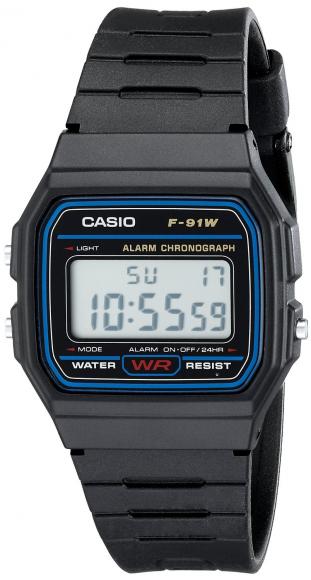 The Casio F91W Digital Sports Watch
Amazon.com product reviewer "Marrz" tells us about the watch
with NSA capabilities that even Edward Snowden didn't know about:
As a middle eastern hipster it's easy for me to find old 80's American and Japanese technology at the local bazar [sic]. I spied this gem for a pittance of a chicken and HAD to have it. It was better then finding a fixie hauling PBR!! (If I were allowed to drink) No sooner had I strapped my retro classic to my wrist and checked the time that a black hood closed over my head. At first I hoped it was irony but I was wrong SO WRONG!

I was soon moving in a truck, I could feel sweat beading under the rubber strap of my Casio F91W-1 and knew the timepiece was still attached to my wrist able to tell me how long I'd traveled. Alas I awoke in a haze, as my hands clenched behind me I could not check the time.

I couldn't distinguish the pain of the zip tie cuffs from my Casio F91W-1 smooth rubber strap but soon found my new watch dangling before my face as a man screamed "WHY DO YOU OWN THIS WATCH!?!" "To know what time it is I muttered meekly," I could see it was 1AM, I was missing Adventure Time being broadcast from the United States. "CAN YOU TELL ME WHY 32 OTHER TERRORISTS HERE HAVE THIS SAME WATCH!?!" I searched my brain, 32? That sales man said I had the only one in the country, I wasn't unique anymore? I was going to need a new watch. "They were all lied to by the salesman as well?"
Read it all
 (and check out the nifty price
).