Posted on November 6, 2018, and tagged as
To run away together and spend some time forever and never feel bad anymore is God's plan for us. We're made for it.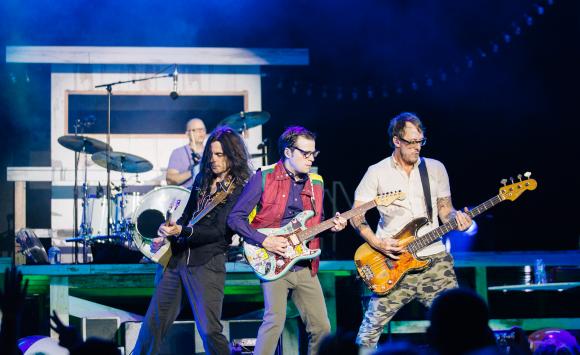 What does it mean to be in communion?
I was in communion with 17,000 people this summer. A few I knew, others I had just met, most were strangers. All of us gathered with Weezer for a couple of hours on a warm July night. Buddy Holly, Pork and Beans, Hash Pipe -- whatever Weezer played, we sang with them.
Not all gatherings are communal. I'm a parent who, like all the parents I know, have burned countless weeknights and Saturdays at crowded recitals, games, band competitions and graduations. We rushed home from work, ate dinners late, and learned that the aluminum stands of high-school football fields are places where you either melt or freeze. We were there together, familiar faces that cheered and clapped as one, but we were never there for each other. We were there for ourselves. It wasn't communion, it was a crowd.
Music concerts are different. When people share in the same music, they're saying to total strangers that there's some emotional facet of their lives they all share. Music doesn't simply bring people together, it connects people deep down in their core. It says to each of us that there's something basic we all have in common.
About midway through this Weezer show, Rivers Cuomo, the lead singer, grabbed an acoustic guitar, mounted a scooter, and rolled into the crowd to sing the next song. The band took a break, so we backed him up. The song was Island in the Sun:
On an island in the sun
We'll be playing and having fun
And it makes me feel so fine
I can't control my brain
I've always wanted to sing this song to someone I care for who has experienced difficulty and struggle. I want them to have an island in the sun where painful memories aren't packed in their bags like a bathing suit. That makes this song a wish on my part. But what's the point of that?
In storytelling, wishes are powerful. A story's hero often wishes for deliverance from a tough spot at the story's start. Take Dorothy, who in the Wizard of Oz said, "Someday I'll wish upon a star and wake up where the clouds are far behind me." She got it and then some. If we are heroes in the stories of our own lives, we're wishing often. Anyone who's ever bought a Mega Millions or Powerball ticket knows that.
We were certainly wishing at the Weezer concert:
We'll run away together
We'll spend some time forever
We'll never feel bad anymore
I and everyone there wanted our wish granted. I wanted it for people in my life who knew loss, like my parents who lost their daughter and for my wife who lost her mother, both to cancer. What was it that the other 16,999 people wanted to run away from and never feel bad anymore? It couldn't have been the same but it couldn't have been much different either.
The thing is, this song became more than a wish when 17,000 people with an emotional connection to the music sang it together. In communion it became a prayer. We weren't wishing for a relaxing vacation on a beach. We were asking for relief. We were asking as one to be in a place where we wouldn't feel bad anymore, forever. We were asking for heaven.
How is that? First we'll have to look at what heaven is. Is it a place? Are there activities? What's the food like? Do you ever get bored from just hanging around day after day?
My favorite pop-culture image of heaven comes the Simpsons. When Homer and Bart consider becoming Catholic, Marge imagines the impact on her family in heaven. They end up on separate Protestant and Catholic clouds. Marge's Protestant cloud is like a preppy country club where Poppy and Dash play badminton and croquet. But not Catholic heaven. Marge is shocked to see Bart and Homer enjoying an ethnically rich and temporal heaven with music, a big dinner, drinking, dancing, fighting, piñatas, and Jesus tossed airborne from a sheet. The vision of Catholic heaven ends with an all-in rendition of River Dance.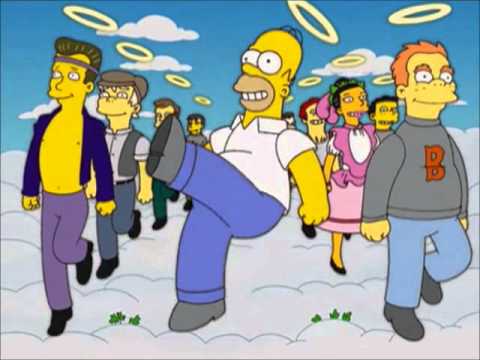 I'm not sure any of this is good theology. Except the River Dance part. Why?
Heaven isn't the best-of here, but the River Dance image is telling because it shows the host of heaven dancing as one. It is a communion where the saints are totally united by God's presence.
This image riffs off the theology. We're not spiritual bears. God made us to be social, and our spiritual needs can only be met in relation to other people. One person's needs may be individual, but they aren't uncommon, and the care and attention we get from God reflects this duality.
In heaven each of us is in full contact with God and his love. That love is as focused on neighbor as much as it's focused on any one of us. We're linked by God's love in a way that makes us aware of each other's union with God. River Dance it's not, communion it is, and the result is total and imperishable happiness. Pretty cool.
In that fulfillment the cares of life are cast away, as Weezer tells us:
We'll spend some time forever
We'll never feel bad anymore
In fact, we get a glimpse of this in Revelation:
God's dwelling is with the human race. He will dwell with them and they will be his people and God himself will always be with them. He will wipe every tear from their eyes, and there shall be no more death or mourning, wailing or pain.
In communion with God and each other, the needs (or wishes) of everyone in heaven are fulfilled. Wow, how can I get some of that?
To run away together and spend some time forever and never feel bad anymore is God's plan for us. We're made for it.
Let Dorothy have her wish, pray for communion with God instead. Hip-hip.