Posted on January 17, 2013, and tagged as
It's going to take some time to unravel the truth about what star Notre Dame linebacker Manti Te'o knew when. One thing's for sure: The press ran with the story without ever checking the first of the Five Ws -- who.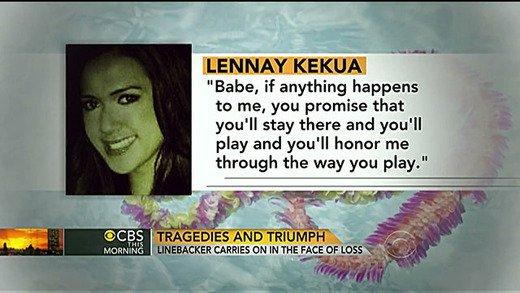 Yesterday I wrote about ABC News's shameful efforts to pass off old reporting as new. I mentioned that one of the formerly excellent news organization's latest habits is essentially retweeting celebrity statements without confirming their validity.
Looks like I blogged too soon.
Today Deadspin.com reports on the reporting of the "death" of Lennay Kekua, girlfriend of Notre Dame's star linebacker, Manti Te'o. The often repeated story, according major press outlets, is Kekua died the same day Te'o's grandmother passed away. But there's a problem:
There was no Lennay Kekua. Lennay Kekua did not meet Manti Te'o after the Stanford game in 2009. Lennay Kekua did not attend Stanford. Lennay Kekua never visited Manti Te'o in Hawaii. Lennay Kekua was not in a car accident. Lennay Kekua did not talk to Manti Te'o every night on the telephone. She was not diagnosed with cancer, did not spend time in the hospital, did not engage in a lengthy battle with leukemia. She never had a bone marrow transplant. She was not released from the hospital on Sept. 10, nor did Brian Te'o congratulate her for this over the telephone. She did not insist that Manti Te'o play in the Michigan State or Michigan games, and did not request he send white flowers to her funeral. Her favorite color was not white. Her brother, Koa, did not inform Manti Te'o that she was dead. Koa did not exist. Her funeral did not take place in Carson, Calif., and her casket was not closed at 9 a.m. exactly. She was not laid to rest.
Who got it wrong? South Bend Tribune, ESPN, Sports Illustrated, New York Post, CBS News, College GameDay, The Associated Press (which reported on a city in California that doesn't exist), Los Angeles Times and The New York Times, according to Deadspin.
It's going to take some time to unravel the truth about who knew what when. Was it a hoax? Was there a cover up? Did Te'o lie or was he a victim?
In any event consider the impact social media is having here. Te'o apparently met Kekua on Twitter and the two were said to have a romantic relationship that fueled his performance on the field. In the best case, a man was duped into a relationship with a woman he met online. She didn't exist, and he and the nation mourned her passing. The press picks up the story and runs with it without ever checking the first of the Five Ws -- who.