Posted on January 9, 2013, and tagged as
Chickens everywhere rejoiced. Not me. In the McNugget I found a revelation in the unctuous food lube that came with every order: the flavor of barbeque.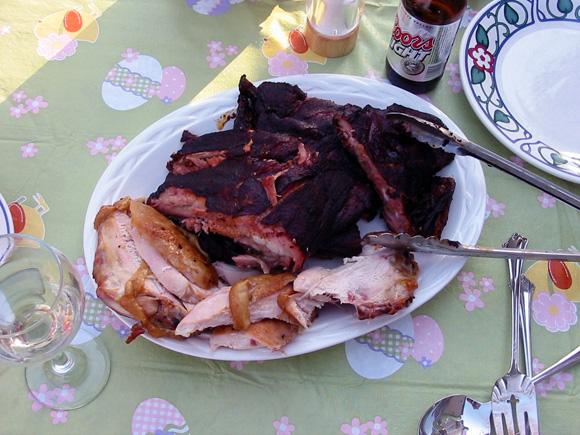 The Wall Street Journal reports on the death of former McDonalds CEO Fred Turner:
Fred Turner was a onetime grill man who took the reins at McDonald's Corp. from his mentor, Ray Kroc, expanded the company overseas and increased sales with new menu offerings such as Chicken McNuggets.

Mr. Turner, who died at age 80 on Monday from complications due to pneumonia, joined McDonald's shortly after Mr. Kroc opened his first outlet in Des Plaines, Ill. As head of operations, Mr. Turner helped create the speedy production routines that made the company the largest restaurant chain in the world.
I owe Mr. Turner some thanks for expanding my food horizons.
Growing up in an Italian family, the chicken universe was made up of four states of matter: cacciatore, parmigiana, grilled and roasted. Television brought images of Colonel Sanders into my house, but fried chicken was something people ate in far-off lands like Tennessee and the Carolinas.
McNuggets arrived when I was a teenager and they came with a choice of sauce. My fist time at bat I picked barbecue sauce. One bite later I was hooked on the sweet, smoky and sour flavor I had never tasted before. I didn't care about the chicken at all. One bite into it and I could tell the thing was made by the same process that brought Frankenstein's monster
to life. But as Sweet Baby Ray
says, the sauce is the boss.
Today barbecue is an important part of my diet. The taste of Tennessee and the Carolinas (as well as St. Louis and Texas and many places in between) is a regular part of summer weekends (which according to the barbecue calendar lasts from March to November).
The sauce I make is based on Steve Petrone's Number 5 recipe. We like it because it's a fine comprise between vinegar (which I like) and sweet tomato (which the rest of the family likes). Here's the recipe as I make it:
1 cup ketchup
1/2 cup cider vinegar
1/3 cup brown sugar
1/2 cup defatted meat drippings
1 tablespoon Worcestershire sauce
1 tablespoon soy sauce
1 tablespoon rub
Combine and simmer until reduced to the consistency you like.
It works great on chicken.